Regular price
€2.890,00 EUR
Regular price
Sale price
€2.890,00 EUR
Unit price
per
Sale
Sold out
You will be able to immerse yourself in an immersive light experience where your touch and the music will influence the light patterns, creating a captivating interaction with the light ambiance.
Enjoy the beneficial effects of bio-dynamic light
The SensoSphère PRO with its 40 cm diameter globe offers a range of 60m2, i.e. a larger surface area and twice the brightness compared to the SensoSphère Classique+. It has been used primarily in therapeutic and medical settings for the past 12 years. This advanced interactive mood light is also suitable for commercial spaces and large home rooms, as well as relaxation areas like yoga studios, spas and health centers. It can also create a soothing environment in lobbies, waiting rooms of hotels, airports and offices. The SensoSphère technology comes from the Sensora system projector used in therapeutic and medical environments.
An expert design
The SensoSphère Pro offers you a choice of seven lighting moods, each using a combination of colors, modulation frequencies and light rhythms specifically studied to induce the desired state. One of the properties of the SensoSphere Pro that sets it apart from other devices is its use of sophisticated light synthesis algorithms that continually introduce subtle variations in its patterns: always surprising and attractive, it can be contemplated indefinitely without ever becoming boring. .
Benefit from the proven effects of light on well-being through seven lighting scenes specifically designed to optimize your sensory and integrative therapy experiences: Balance (Alpha 8 to 12 Hz), Energy (Beta 12 to 30 Hz), Gamma (40 Hz), Relax (Alpha 8 to 12 Hz), Party (Delta 1 to 4 Hz), Night Light (Eliminates all traces of the color blue) and Monochrome.
Monochrome mode for personalized use of colors and brainwaves.
Take advantage of the psycho-emotional properties of colors with monochrome mode, allowing you to choose colors and brain waves to induce specific states.
A tool that has also demonstrated its effectiveness in helping to express emotions by adjusting colors.
You can also associate your lighting moods with the music of your choice thanks to its interactivity.
Wake up gently with the light-up wake-up mode, including a dawn simulator option to gently wake up your biological rhythm.
Drift into a restful night by letting yourself be enveloped in sleep mode, a gentle dim of light that naturally prepares your mind for rest. Explore the regulating benefits of this mode, which gently adjusts light intensity to harmonize your sleep pattern with your Delta brain waves, promoting deep, restorative sleep. Enjoy a sleep that rejuvenates and revitalizes you!
Use the free SensoSphère app to exercise control over the light spectrum, in harmony with the principles of chromobiology. Enjoy the serenity that the SensoSphere app offers, allowing you to gently shape the light to your needs.
Change the mood with just a touch
Create an intuitive connection with your environment by changing the lighting moods via a touchpad, for fluid interaction with your space and your desires.
Interactivity
Explore a captivating interactive experience with the SensoSphere Pro through touch and music! This revolutionary lamp offers two unique modes of interactivity: a reaction to ambient sound and a response to gestures near its luminous surface. These two dimensions bring dynamic and intriguing light variations, thus offering an unpredictable and spellbinding experience.
This immersive experience is made possible by the ingenious fusion of sound signals and movements with the parameters of light modulation technology. These parameters include pulse speed and depth, color range, and light rotations and translations. Each of these connections is carefully calibrated to ensure perfect harmony with the distinctive properties of each Light Mood, creating a captivating interaction between your environment and the ambient light.
While the SensoSphère Pro can easily be controlled on its own via its touchpad, it also offers advanced wireless functionality, including the ability to disable Bluetooth for EMF-sensitive individuals.
Pure and clean light "without luminous noise"
Although invisible to the eye, light flickering can negatively impact our nervous system, with varying consequences depending on the individual. For sensitive people, even a slight pulse of light can trigger migraines, headaches and visual strains. As for the others, it is added to the overall environmental stress, which can eventually contribute, over time, to the emergence of various chronic conditions.
Our expertise lies in the therapeutic application of light, which makes us keenly aware of the harmful consequences of poor quality light. The Sensosphere Pro was therefore designed without "light noise" J
Long-lasting bulbs
The SensoSphere is made of high quality components assembled in Canada. Its built-in LED light sources have an estimated lifespan of 50,000 hours, ensuring many years of continuous use.
Enjoy this exceptional sensory immersion that merges art, science, technology and well-being!

Find out more: our user guide
Share
View full details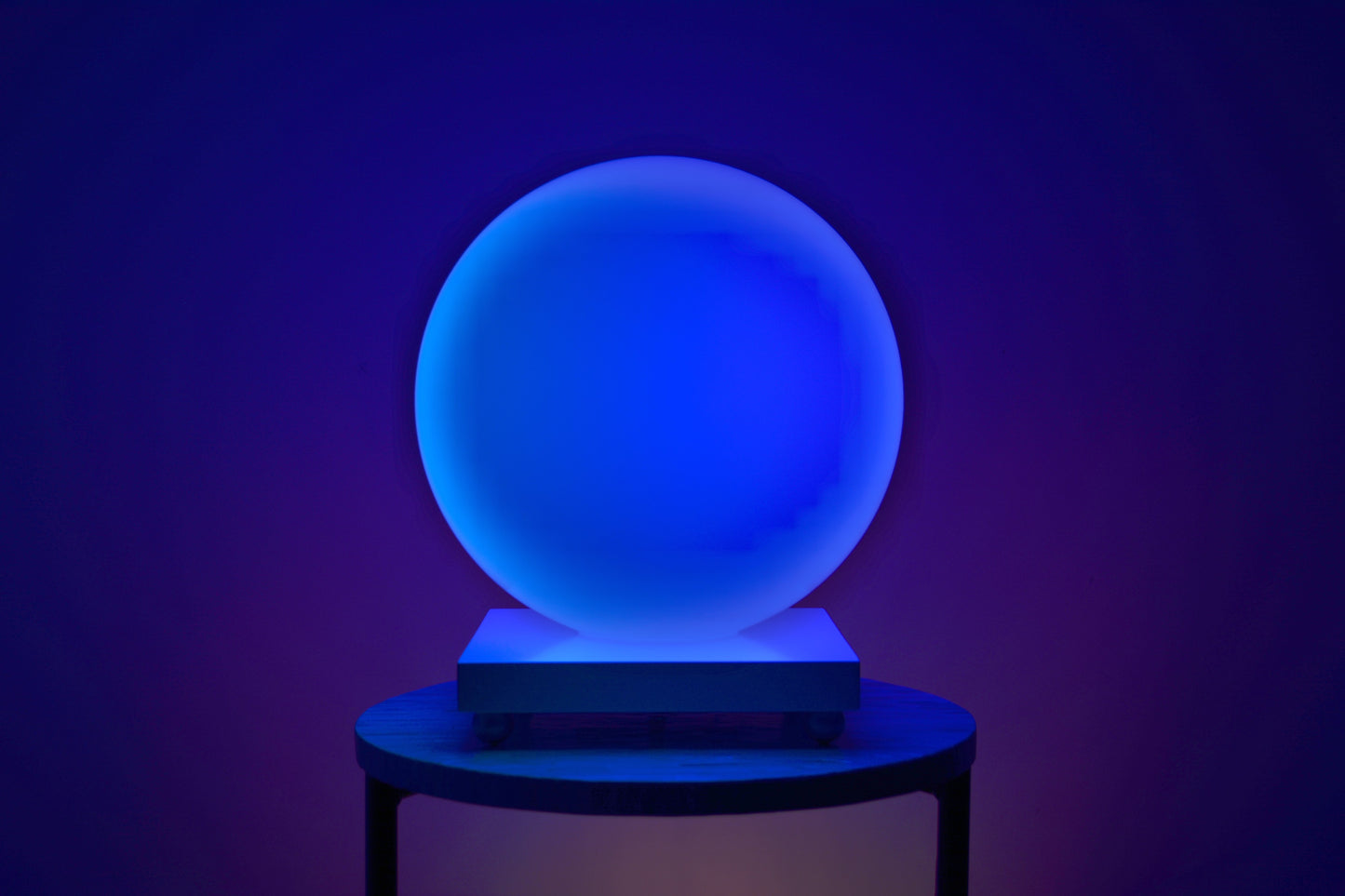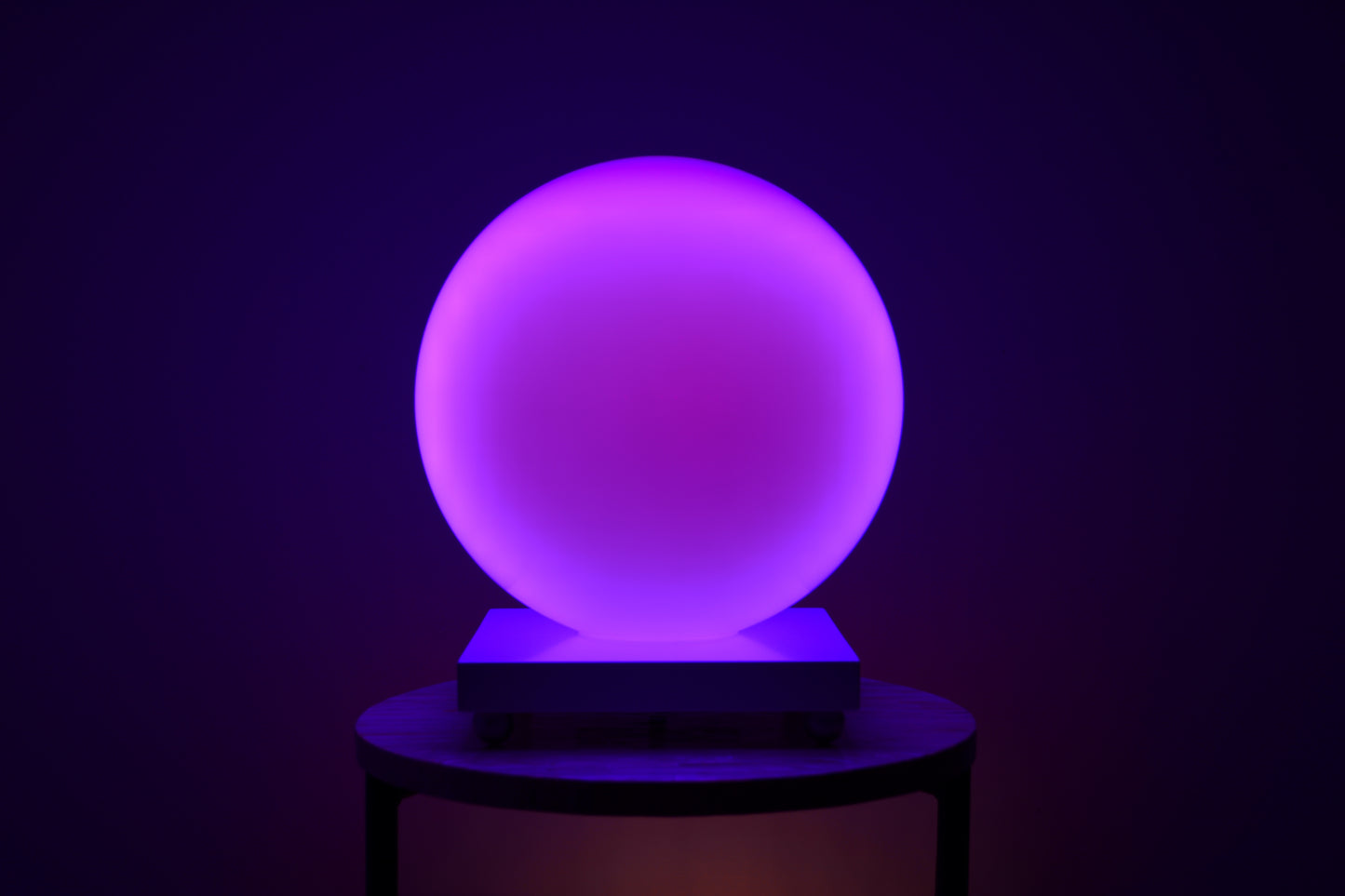 Clinique des Quatre-Saisons
La lumière est essentielle à notre organisme car elle permet de réguler le sommeil, diminuer le stress et refaire le plein d'énergie.
Au printemps 2020, 24 établissements de santé mentale du groupe Ramsay Santé ont décidé d'implémenter la luminothérapie, une thérapie non médicamenteuse.
La Clinique des Quatre-Saisons, à Marseille, dispose d'une SensoSphère, dispositif de chromothérapie qui diffuse une lumière pure, propre et biodynamique permettant de réguler l'organisme.
Avec :
- Carine Dupont, Psychologue et Responsable du pôle psycho-socio-éducatif
- Mélanie Gorgorian, Infirmière Diplômée d'État
- Fanny Kittler, Ergothérapeute et art-thérapeute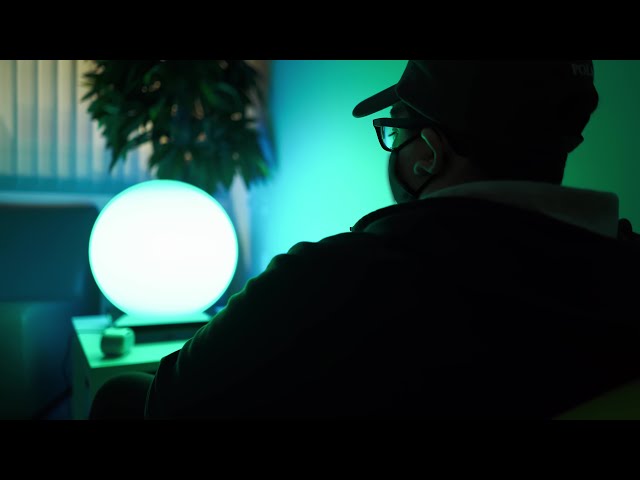 Sa présence apaise, soutient et apporte la sérénité.
La SensoSphere Pro, que j'utilisais particulièrement comme soutien pendant les périodes de grande fatigue mentale et physique, fait maintenant partie intégrante de ma vie. C'est bien plus qu'un simple objet. C'est une présence en soi qui m'accompagne chaque jour. Son énergie douce se répand dans les pièces de la maison. Accompagnée de musique, elle offre une invitation à un véritable voyage intérieur.
Je le recommande à tous les thérapeutes
Lorsque je donne des massages, la SensoSphere Pro apporte une profonde atmosphère de calme et de tranquillité, non seulement pour moi mais aussi pour la personne qui le reçoit. La lumière et les couleurs qu'elle émet favorisent grandement la relaxation. Je le recommande à tous les thérapeutes.