Regular price
€1.890,00 EUR
Regular price
Sale price
€1.890,00 EUR
Unit price
per
Sale
Sold out
You will be able to immerse yourself in an immersive light experience where your touch and the music will influence the light patterns, creating a captivating interaction with the light ambiance.
Enjoy the beneficial effects of bio-dynamic light
The SensoSphère Classique+ offers you a 30 cm diameter globe, perfect for standard spaces up to 35 m2. Highly popular in therapeutic and medical environments for the past 12 years, this state-of-the-art interactive mood lamp blends seamlessly into professional spaces, homes and places of relaxation such as yoga studios, spas and wellness centers. It also creates a soothing atmosphere in the waiting rooms. Thanks to the cutting-edge technology of the SensoSphère Classic+, derived from the Sensora system projector used in therapeutic and medical contexts, this solution creates an innovative experience of well-being within your space.
An expert design
The SensoSphère Classic+ offers you a choice of seven lighting moods, each using a combination of colours, modulation frequencies and light rhythms specifically studied to induce the desired state. What sets the SensoSphere Classic+ apart from other devices is its use of sophisticated light synthesis algorithms that continually introduce subtle variations into its patterns: always surprising and attractive, it can be contemplated indefinitely without ever becoming boring.
Benefit from the proven effects of light on well-being through seven lighting scenes specifically designed to optimize your sensory and integrative therapy experiences: Balance (Alpha 8 to 12 Hz), Energy (Beta 12 to 30 Hz), Gamma (40 Hz), Relax (Alpha 8 to 12 Hz), Party (Delta 1 to 4 Hz), Night Light (Eliminates all traces of the color blue) and Monochrome.
Monochrome mode for personalized use of colors and brainwaves.
Take advantage of the psycho-emotional properties of colors with monochrome mode, allowing you to choose colors and brain waves to induce specific states.
A tool that has also demonstrated its effectiveness in helping to express emotions by adjusting colors.
You can also associate your lighting moods with the music of your choice thanks to its interactivity.
Wake up gently with the light-up wake-up mode, including a dawn simulator option to gently wake up your biological rhythm.
Drift into a restful night by letting yourself be enveloped in sleep mode, a gentle dim of light that naturally prepares your mind for rest. Explore the regulating benefits of this mode, which gently adjusts light intensity to harmonize your sleep pattern with your Delta brain waves, promoting deep, restorative sleep. Enjoy a sleep that rejuvenates and revitalizes you!
Use the free SensoSphère app to exercise control over the light spectrum, in harmony with the principles of chromobiology. Enjoy the serenity that the SensoSphere app offers, allowing you to gently shape the light to your needs.
Establish a natural connection with your SensoSphère Classic+ by modifying the lighting moods, the brightness, by activating or deactivating the interaction with the ambient sound, by turning the SensoSphère Classic+ on or off using simple and fluid gestures, thanks to our gesture interface. Control the lighting experience with intuitive ease.
Interactivity
Explore a captivating interactive experience with the SensoSphere Classic+ through touch and music! This revolutionary lamp offers two unique modes of interactivity: a reaction to ambient sound and a response to gestures near its luminous surface. These two dimensions bring dynamic and intriguing light variations, thus offering an unpredictable and spellbinding experience.
This immersive experience is made possible by the ingenious fusion of sound signals and movements with the parameters of light modulation technology. These parameters include pulse speed and depth, color range, and light rotations and translations. Each of these connections is carefully calibrated to ensure perfect harmony with the distinctive properties of each Light Mood, creating a captivating interaction between your environment and the ambient light.
While the SensoSphère Classic+ can easily be controlled autonomously via its gesture interface, it also offers advanced wireless functionality, including the ability to disable Bluetooth for individuals sensitive to electromagnetic fields.
Pure, clean light without "light noise"
The term "light noise" refers to the flickering or oscillation of the light intensity emitted by a source. Even if we are not aware of it, artificial light sources that emit perfectly stable light are extremely rare, because they flicker at a speed or frequency too high to be detected by our visual system (beyond 50 to 70 Hz).
Although invisible to the eye, light flickering can negatively impact our nervous system, with varying consequences depending on the individual. For sensitive people, even a slight pulse of light can trigger migraines, headaches and visual strains. As for the others, it is added to the overall environmental stress, which can eventually contribute, over time, to the emergence of various chronic conditions.
Our expertise lies in the therapeutic application of light, which makes us keenly aware of the harmful consequences of poor quality light. The Sensosphere Classic+ was therefore designed without "light noise".
Long-lasting bulbs
The SensoSphère Classic+ is made of high quality components assembled in Canada. Its built-in LED light sources have an estimated lifespan of 50,000 hours, ensuring many years of continuous use.
Enjoy this exceptional sensory immersion that merges art, science, technology and well-being!
Find out more: our user guide
Share
View full details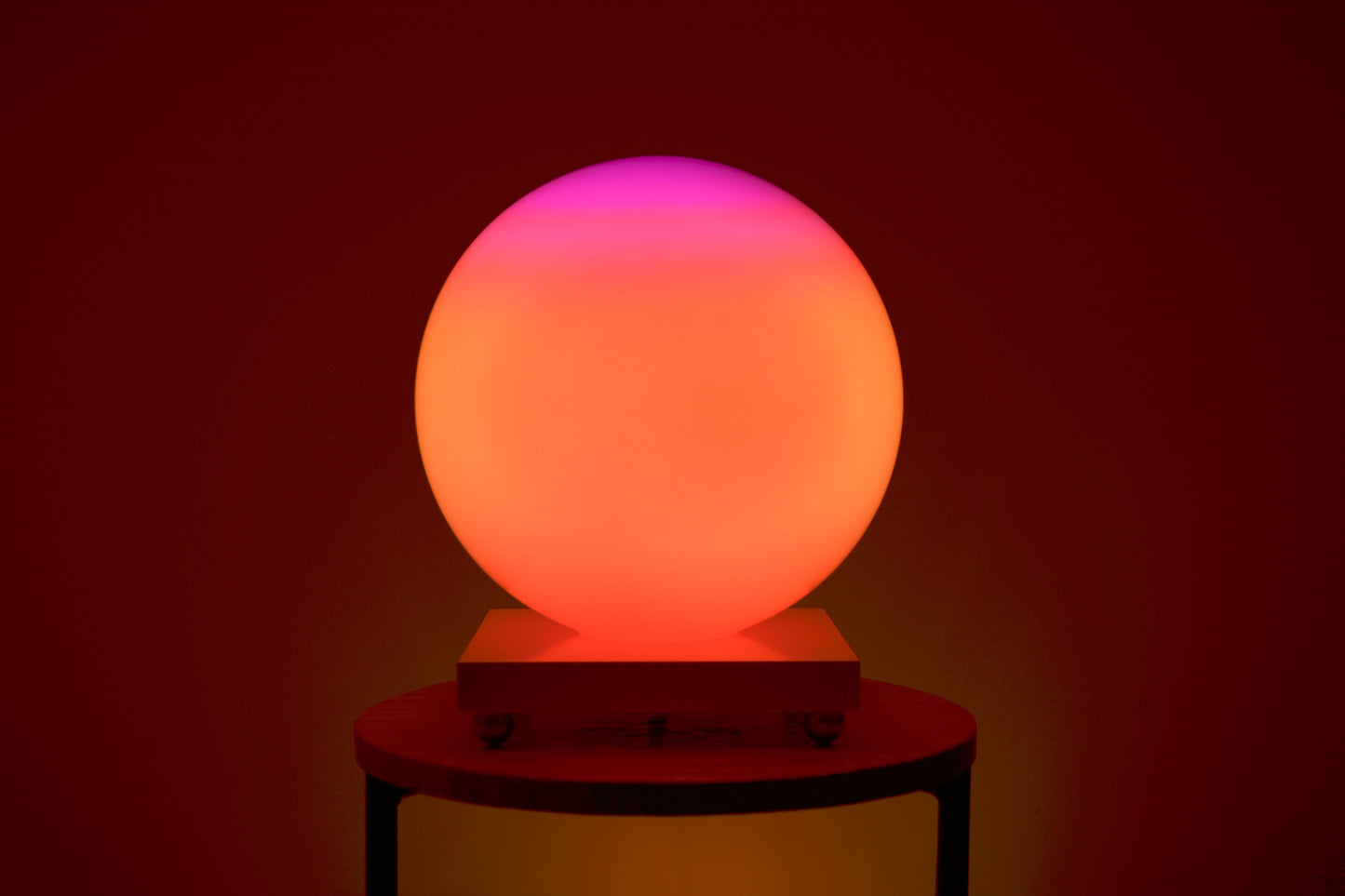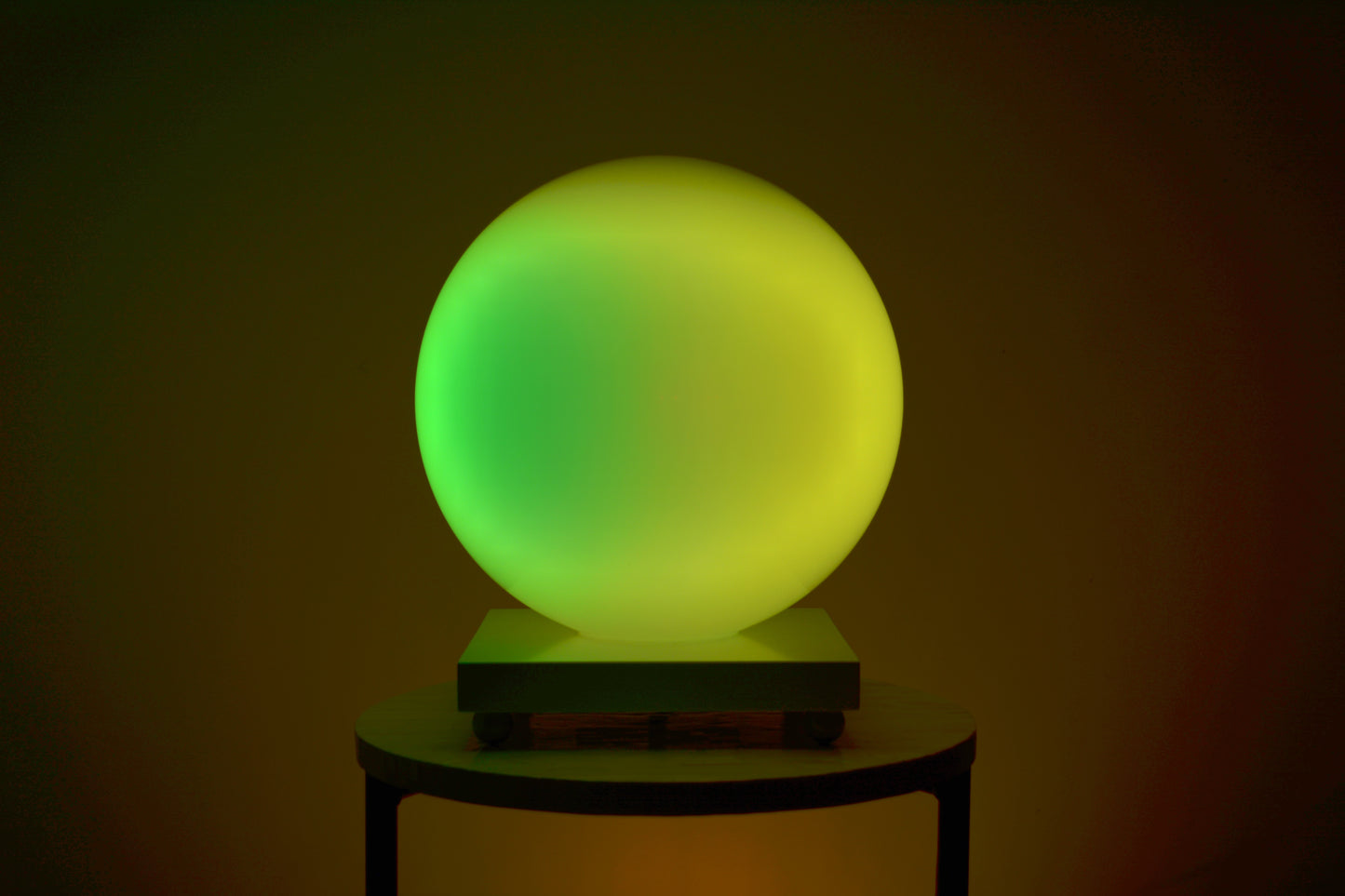 Cela relève presque de la magie
À mon avis, SensoSphere Classique+ est une invention incroyablement remarquable. Son originalité réside dans sa parfaite harmonie avec l'environnement qui l'entoure. Son magnifique design zen, composé d'une imposante sphère blanche reposant sur une base carrée noire, en fait un objet décoratif en soi, même lorsqu'elle est éteinte. Le contrôle intuitif, que ce soit en effleurant la sphère du bout des doigts ou en laissant simplement nos mains la guider, relève presque de la magie ! L'atmosphère créative qu'elle dégage m'aide à me plonger dans l'écriture ou la méditation avec une concentration accrue. Je suis sincèrement enchanté de posséder cette SensoSphere, fidèle compagne de nombreux moments de ma vie, qui agrémente chacun d'eux de ses couleurs stupéfiantes dans des motifs en perpétuel changement.
C'est une expérience incroyablement relaxante et de qualité méditative.
J'intègre SensoSphere Classique+ à ma pratique thérapeutique comme une source curative de couleurs pour mes clients, mais aussi comme un soutien lorsque je travaille avec eux. La douceur et la pureté de la lumière de SensoSphere permettent aux couleurs de se mêler subtilement, mais avec une profondeur et une vivacité qui me permettent d'atteindre un pic d'énergie. Nous adorons également l'interaction entre SensoSphere et la musique ! Cette lumière enrichit notre vie en famille et avec nos amis, particulièrement lors de nombreuses soirées où nous expérimentons la magie de SensoSphere en harmonie avec la musique ambiante.
Une belle expérience de Noël en famille !
SensoSphere Classique+ a créé une atmosphère chaleureuse et paisible pour nous tous, et nous avons ressenti comme une sorte d'enchantement inattendu, qui a apporté à chacun une présence intérieure et du calme. C'est vraiment merveilleux de partager de tels moments avec vos frères, belles-sœurs et enfants.